News
Exercise therapy is one of the most effective for ankle sprains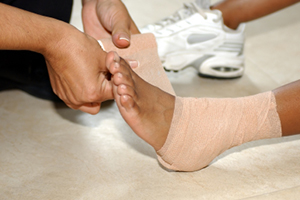 Large number of studies on topic makes it difficult to stay on top of
Ankle sprains are the most common injury in athletes and those who are physically active. In addition to the initial pain and disability that these injuries cause, up to 40% of patients who sprain their ankle once will go on to develop a condition called chronic ankle instability (CAI). Individuals with CAI tend to experience continual pain and soreness, and a sensation that the ankle is giving out. As a result, they are more likely to sprain their ankle again, which can lead to serious long-term issues. There is actually an abundance of research that evaluates different treatments for ankle sprains and CAI, including many systematic reviews. Systematic reviews collect all the most important studies available on a topic and then evaluate their findings in great detail. Currently, there is such a large number of systematic reviews on ankle sprains that it has become very difficult for doctors to stay on top of them all. This calls out the need for a comprehensive review that summarizes all of the most quality systematic reviews in a clear way. A team of researchers noticed this and performed a systematic review of the systematic reviews, which is called an overview review.
Six medical databases searched for relevant studies
The researchers performed a detailed search of six major medical databases for high-quality studies on different treatments for ankle sprains and CAI. They only accepted systematic reviews that evaluated the effectiveness of an intervention for the treatment and/or prevention of ankle sprains and/or CAI. Out of 2,506 studies identified, 46 systematic reviews fit the necessary criteria and were used in this review. The findings from each of these reviews were compared to one another and they were all assessed for quality to determine the reliability of their information.
Exercise therapy among the most strongly supported treatments
The results of this review found that several different interventions were effective for treating and preventing ankle sprains and CAI. There was evidence of moderate quality that exercise therapy was capable of reducing pain, swelling, and function in patients with ankle sprains. There was also strong evidence that exercise therapy was helpful for preventing future ankle sprains from occurring. This was in addition to other strong evidence that supported the use of a brace for preventing future ankle sprains as well. There was also moderate-quality evidence that a hands-on intervention called manual therapy was effective for treating ankle sprains as well, but the studies to support it suffered from some shortcomings. Finally, findings from the reviews on surgery showed that it was expensive and risky, and should only be considered as a last resort after other treatments have failed. Exercise therapy and manual therapy are two of the most commonly used interventions for ankle sprains in physical therapy, and this review provides even more support for why they are used. Individuals dealing with an ankle sprain are therefore encouraged to seek out the services of a physical therapist to alleviate their pain, improve their function and reduce the risk of CAI and future ankle sprains.
-As reported in the October '16 issue of
British Journal of Sports Medicine
February 9, 2018
See News
Disclaimer:
The information in the articles, posts, and newsfeed is intended for informational and educational purposes only and in no way should be taken to be the provision or practice of physical therapy, medical, or professional healthcare advice or services. The information should not be considered complete or exhaustive and should not be used for diagnostic or treatment purposes without first consulting with your physical therapist, occupational therapist, physician or other healthcare provider. The owners of this website accept no responsibility for the misuse of information contained within this website.